Product
Computer Paper Cutting Machine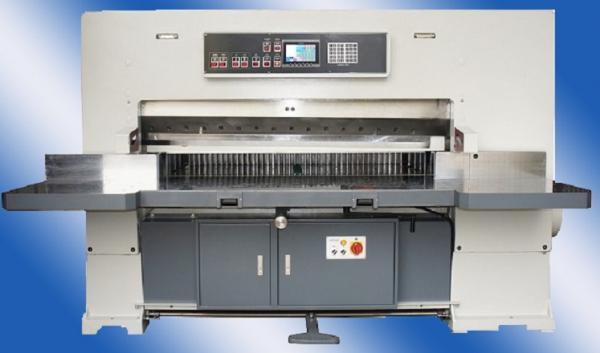 Product ID: CH-660, CH-720, CH-940, CH-1060, CH-1210, CH-1510, CH-1660
Movie:
Micro-Computer use 7"Color Touch Screen
˙Micro-computer controlled 7"color touch screen, 100 set micro computer control. Automatic display Backgauge position, Memory 2,000 point.

Download Catalogue

Features:
Cutting blade driven by worm wheel and magnetic clutch.
Photo-sensor for safety.
The back guard equip with linear bearing for smooth movement, exact position-setting , wearing endurance
Labor-saving, quickly structure for change Knife

Lifting knife by the mechanism principle to change the knife efficiently and safely.

Work table install the air for smooth movement and rotary
Work table slot is cover by the belt , avoid the paper dust drop into the slot.
Specially designed powerful electro-magnetic brake clutch avoids accidental second- time knife cutting
Optical cutting line correct cutting position
Cutting use : veeneer, suitable for paper, cardboard, corrugated paper, thin plastics(PVC, PE, PP, PU), leather slice, slice fiber cloth, thin glass, clothes, cork, etc.
Metric, Taiwanese, and British system of computerized, measure setting for your free options.
See more complete detail
| Spec /Model | CH-660 | CH-720 | CH-940 | CH-1060 | CH-1210 | CH-1510 | CH-1660 |
| --- | --- | --- | --- | --- | --- | --- | --- |
| Cutting Thickness | 120mm | 120mm | 135mm | 135mm | 135mm | 135mm | 135mm |
| Cutting Width | 660mm | 720mm | 940mm | 1060mm | 1210mm | 1510mm | 1660mm |
| Cutting Length | 660mm | 720mm | 940mm | 1060mm | 1210mm | 1420mm | 1660mm |
| Front Table Length | 540mm | 540mm | 630mm | 630mm | 630mm | 630mm | 630mm |
| Table Height | 820mm | 820mm | 860mm | 860mm | 860mm | 860mm | 860mm |
| Total Machine Length | 1720mm | 1780mm | 2160mm | 2340mm | 2600mm | 2800mm | 2820mm |
| Machine Width | 1510mm | 1570mm | 2160mm | 2450mm | 2500mm | 3020mm | 3200mm |
| Machine Height | 1470mm | 1470mm | 1500mm | 1560mm | 1800mm | 1800mm | 1800mm |
| Electrical Supply (Dia./N) | φ3/220V | φ3/220V | φ3/220V | φ3/220V | φ3/220V | φ3/220V | φ3/220V |
| Net Weight (kg) | 1500kg | 1550kg | 2200kg | 2400kg | 3500kg | 4000kg | 4700kg |
| Main Motor | 1HP | 1HP | 3HP | 3HP | 5HP | 5HP | 5HP |
| Hydraulic Motor | 1HP | 1HP | 2HP | 2HP | 3HP | 3HP | 3HP |
| Air Table | 0.5HP | 0.5HP | 0.5HP | 0.5HP | 1HP | 1HP | 1HP |
| Paper Feeding Motor | 1HP | 1HP | 1HP | 1HP | 1HP | 1HP | 1HP |